The Epson ELP-DC12 Document Camera enables users to turn their existing projector into a fully interactive Education creativity tool. The document camera is lightweight and compact enough to take with you from room to room.
The document camera can be used for more than just projecting documents. There is also an attachment that can be added to microscopes to share in some up close and personal viewing.
Show a dissection in biology class or displaying a historical artifact projected in beautiful detail onto the big screen. The document camera can be used to display a lesson live to the projector screen, capture video footage or still images, or simply as a replacement to an overhead projector.
The document scanner comes with everything you need to record your own presentations; advanced application software, a great zoom module, and a built-in microphone. You can record your own presentations with audio, perform annotations live on the screen, and even use a time lapse function on playback.
With Full HD (1080p) output through HDMI, lessons have never looked better.
KEY FEATURES & BENEFITS
Remarkable image quality

 – New Larger optical sensor provides sharp, clear images.

Deliver powerful lessons with amazing detail

 – 16x digital zoom.

Future Ready connectivity

 – HDMI digital connectivity for high-quality video content.

Microphone built in

 – Capture audio/video lessons for future reference.

Microscope Adaptor Included

 – Connect directly to your microscope & share the microscopic events with the whole class.

Powerful storage capability

 – Store captured images and video onto SD card, USB device or the 1GB internal memory.

PC Free Annotation

 – Connect a mouse or Control Device directly via the USB-A port and annotate on the live image, without a PC. Built-in toolbar software will become active.

Time Lapse

 – Capture the growth of a plant, or organic process over an extended period by setting the camera to combine images taken into a video file.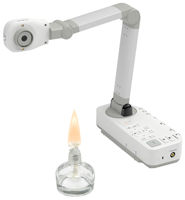 Remarkable Image Quality
With the power of a high sensitivity 1/2.7″ CMOS Sensor, the ELP-DC12 document scanner delivers high quality, beautiful images that will bring life to classroom activities.
The document scanner can capture objects in stunning detail with a 16x zoom lens. Even large objects are no issue with an A3 sized capture area.
An impressive 30 frames per second ensures smooth flowing vivid live images and video captures. It has never been easier to demonstrate a high detail task to an entire class on the big screen.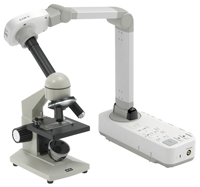 Simplicity of Use
Connect the ELP-DC12 to an Epson projector, and it automatically detects the projector's native resolution and optimises output to suit. One touch auto-focus and an easy to understand control panel makes the ELP-DC12 a pleasure to use for teachers and students alike.
The included microphone and LED capture light means your presentation recordings are always clear and vivid, meaning your students will actually want to watch them, no matter where they're uploaded.
The ELP-DC12 can also function in split screen mode. Users can capture and display images live from the on board memory or SD Card/USB sources at the same time for real time compare and contrast.
A science teacher might choose to display both a list of instructions and a live execution of a science experiment simultaneously, or a music teacher might demonstrate how to play a piece of music with the musical notation in the second window.
Powerful Storage Capability
A full 1GB of internal memory as well as an SD card slot and ability to read USB memory enables users to capture and store directly to the ELP-DC12. Store images and video to an SD card or USB Stick and use them in presentations at a later date.